Follow Us, And Share With Your Friends!
Have trouble finding good quality dog food? Start by knowing what to avoid..
With so many lawsuits, recalls, and horror stories floating around the internet, its easy to see why buying your dog the right kind of kibbles can be a headache. Dogs don't know what artificial fillers or meat by-products are, and their hunger for anything shows no limits. It's up to you to make it right for them, and the best first step is knowing which ones to stay away from. Heres some of the worst dog food brands that are still flooding pet stores in 2017.
Lets jump right in…
#1: Purina Dog Chow
It's easy to see why big brand names like Purina get such a bad reputation, their mentality is simply quantity over quality. Don't be surprised if they come up a few times on this list. That being said, the Purina Dog Chow line along with its other products (Puppy Chow, etc.) are notorious for its terrible ingredients. Marketed as "highly digestible" dog food, unfortunately it's anything but that. It's one of Purina's the oldest dog food lines, so plenty of dog owners are still purchasing it for the price tag and unknowingly facing the consequences.
Dog Chow is packed with fun proteins like low quality meat and bone meal and chicken by-product, both of which are extremely hard to digest due to no probiotics found at all in the ingredients. They are essentially just dried slaughterhouse waste after the prime cuts have been removed, none of which specify from what animal or how it was produced. It also contains low quality fillers like corn, corn gluten, and soybean meal. To top it all off, Purina Dog Chow is packed with artificial colors, flavors, and preservatives. It's low nutritional content has been linked to hair loss, weight loss, liver damage, and numerous recalls over the years.
#2: Ol' Roy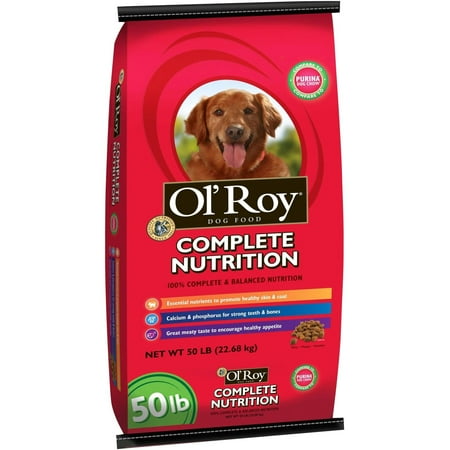 Ol'Roy has been the staple for the worst dog food brands for awhile now. It's one of the best-selling dog foods around since its so widely available, and the cost is dirt cheap. Almost too cheap, which raises suspicions. Unfortunately, many owners have come forward saying how the Ol'Roy line of products have made their dogs sick, lose their appetite, have severe digestive problems, and in worst case scenarios even death. Its easy to see why considering the list of terrible quality ingredients found in it.
The first ingredient found is ground yellow corn, which is another cheap filler responsible for the low cost of each bag. Meat and bone meal makes another appearance as a disgusting protein source with low nutritional value, and Soybean meal which is used in farm animal feed. Animal fat from unspecified sources is also found, preserved with citric acid and BHA which is a cancer causing agent. Once again, loads of artificial colors, flavors, and preservatives make Ol'Roy one of the worst dog foods you can give your pet. Just check out some of these Consumer Affairs reviews, yikes.
#3: Alpo
Purina makes another appearance with their Alpo line of products. With not much of difference from their Dog Chow line, once again low-quality proteins and fillers seem to be the main culprit. Once again big brand names that fill the market, flooding grocery stores with dangerous foods have become commonplace. Here are some key ingredients that make Alpo "everything your dog needs".
Ground yellow corn is in this too, as is beef and bone meal, pork and bone meal, and corn germ meal. The pork and beef portions are just dried up sections of any slaughterhouse waste from the animals, which is a terrible source of badly digestive protein. Once again, no probiotics are found, and its filled with a plethora of artificial colors, flavors, and preservatives. Animal fat is also listed as a primary ingredient, which as we saw earlier comes from unspecified sources. Sickness reports are common wit
#4: Pedigree
Pedigree is one of the most popular, and best known dog food brands out there. With their dog food lines formulated for large dogs, old dogs, puppies, and everything in between, what could possibly be wrong with them? In fact, I've fed my dogs Pedigree a few years ago, and in the short time frame that I did, I noticed an immediate change. They began drinking excessive amounts of water, had severe diarrhea, shaking, and sleeping all day. We immediately took them to the vet fearing the worst and they told us exactly what we thought, it was the food.
Many of the same ingredient seen earlier are ones Pedigree also uses. Proteins from terrible sources and little nutritional value like chicken by-product and meat and bone meal are some of the first ingredients. Followed by corn, corn gluten and soybean meal serving once again as cheap fillers simply to justify the cost. No probiotics are found either which make it easy for your dog to experience digestive issues.
#5: Grreat Choice
The Grreat Choice line of dog food is produced by one of the largest pet retailers in the world, PetSmart. It's readily available for a low price so it's a very popular choice for pet owners all around. It does however, compete with the other brands in this list as a terrible choice for your dogs health. Lets dive into some of the reasons why Grreat Choice makes this list.
Just like any other brand here, some of the same fillers and cheap proteins have been used. Ground yellow corn, meat and bone meal, and chicken by-product are found, as well as poultry fat preserved with the cancer causing agent BHA. Even the third ingredient is wheat middling, an extremely inexpensive filler that is just mill dust and that they use for livestock feed.
To keep it short..
The main objective of this post was to educate dog owners on some of the ingredients found in cheap quality dog foods. To avoid repetition I'm keeping this list short at 5 since many of the ingredients found in each of these are the same, so it's easy to identify other brands to avoid in the future. Know what to look out for, especially with big brand names that dominate supermarket shelves. Don't be fooled either by flashy advertising and premium branding that comes with them either, as the real truth lies in how they are produced.
Make sure that your dog gets the optimum amount of clean protein, carbohydrates, and fats to ensure a well balanced diet. Also be sure to check ingredients for any cheap additives, fillers, and preservatives as these can do way more harm than good. Lastly, talk to you vet to ensure that your pet isn't missing anything important in their diet, or to make sure they aren't being harmed by the foods that they are currently eating. We hope this list has helped inform you of the dangers of popular brands of dog food, and gives you the tools to know what to avoid.
Follow Us, And Share With Your Friends!